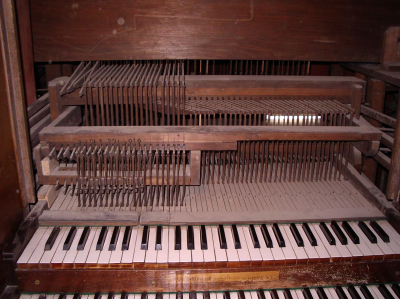 The Thomas Elliot Organ
History of the organ from 1819 up until prior to 1978
The organ was originally built in 1819 by Thomas Elliot of Tottenham Court Road for the Chapel Royal at St James' Palace, London; this accounts for the Royal Coat of Arms at the front of the organ gallery and the crown and mitre on the rail in front of the Renaissance style organ case. Thomas Elliot had developed in the English School having joined the famous organ builder John Snetzler in 1803. Though Snetzler was Swiss, from the time he began to build organs in England in the mid l8th century he followed the English tradition. Having left Snetzler sometime previously to set up his own business, Elliot took the young William Hill into his employment in 1815. Ten years later Hill married Elliot's daughter and became a partner in the firm which he inherited after the death of Elliot in 1832.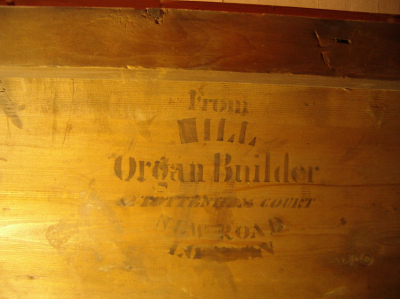 The organ which Thomas Elliot built for St James' Palace replaced a smaller Schrider instrument but he was restricted by having to use the same chamber. This may account for Elliot's organ having been considered unsatisfactory for its function in the Chapel. It was superseded by a larger Hill and Davidson organ in a new chamber of increased size in 1837.
The Elliot organ was first moved to St James', Old Milverton near Leamington Spa but it may never have been rebuilt there. In 1841 it was installed in the west gallery of St Margaret's, Crick having been presented by John Clarke, a blind organist who was born in Crick. A brass plate on the organ case records that: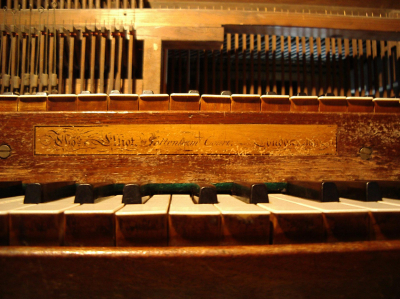 "John Clarke, a native of this Parish, desirous to promote the due performance of that part of the Divine Service which celebrate the praises of ALMIGHTY GOD, presented this organ for the use of the Parish Church - Crick, October 14th 1841."
All the pipes in the three manual organ are voiced on light pressure and most of them are the originals. In 1819, the compass of all three manuals of the organ was from GG (no GG sharp) to F, 58 notes. When built the compass of the Swell was from Tenor F upwards but at some later date the compass was extended down to Tenor C with additional pipes. The Swell keys below Tenor C couple down to the Choir not having any pipes of their own. When first fitted, the Pedal pipes ranged from GG (no GG sharp) to C, 17 pipes. During the 1930s the compass of the manuals and pedals was shortened to CC in the bass.