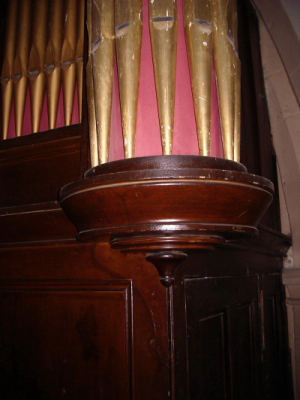 The Thomas Elliot Organ
Restoration cost estimates
Two of the best known organ restorer companies in the UK were asked to inspect our organ and they have produced detailed reports with estimates for such a restoration; their reports can be viewed in detail.
Goetze and Gwynn Report <--- Select here to view the Goetze and Gwynn Inspection 2003 report
Harrison and Harrison Report <--- Select here to view the Harrison and Harrison 2005 report
A later inspection was done by Nicholson & Son in order to get a further quotation for restoration, because a number of funding organisation (e.g. HLF) require a third quotation before proceeding.
Nicholson & Son Report <--- Select here to view the Nicholson & Son 2007 report
As can be seen it appeared that we would not be able to properly restore the Elliot organ for less than £150,000 (at 2006 prices). The PCC were hopeful that we will be in a good position to apply for a financial grant towards a substantial part of these costs of repairs or renovation. The balance of the money we shall have to find ourselves by organising a number of funding events and activities.