The Thomas Elliot Organ
Regular concerts and special events
A number of concerts and special events have been performed in our church over the past years. This tradition will be continued for the foreseeable future starting with an inaugural concert to celebrate the restoration in 2009.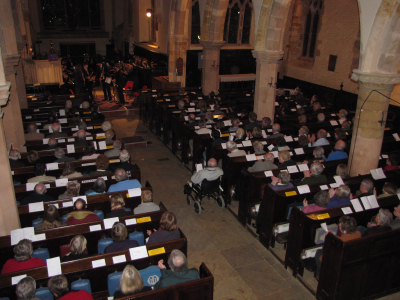 Inaugural concert
An inaugural concert was held on Saturday 3rd October 2009 to celebrate the completion of restoration work in 2009. Andrew Reid, the Peterborough Cathedral organist, who performed a number of organ works on our newly restored Elliot organ. Tickets were sold at a special price of £5 each, including wine and refreshments.
Organ Open Days
The Inaugural Open Day was arranged in conjunction with The Council for the Care of Churches and Andrew Reid. This was scheduled for the The Northampton and District Organists' Association in June 2010.
As soon as Andrew arrived he lost no time in introducing us to the history and development of the Voluntary as used in English Organ Music during the 18th and 19th centuries with several examples of the basic styles. We were reminded that few churches possessed organs and that the evolution of the voluntary, was in large part, propagated on the instruments in opera houses and stately homes. The ratchet-lever swell-pedal seemed only to control a fully open or, fully closed swell-box unless the right foot is constantly resting on it to produce other degrees of volume. It was at this point that a novelty moment arose. Not to be outdone, and to achieve the right level in one particular piece, Andrew wedged his mobile phone between the swell pedal and its aperture in order to maintain a foot-free half-way position. Following demonstrations of full volunatries, trumpet, cornet and echo voluntaries, Andrew concluded with Mendelssohn's 1st Organ Sonata.
Since then further Open Days have been arranged for The Leicestershire and District Organists' Association in January 2012 and The Coventry and District Organists' Association in March 2013.
Alan Shaw Memorial Concerts
Alan Shaw was the organist at St Margaret's church from 1975 until he died in 1990. Each year since, a memorial concert has been given by the pupils and staff of Leicester Grammar School where Bryan Shaw, Alan's son, is Head of Instrumental Studies. These annual concerts have been the principal source of funds to keep the organ maintained and operational until a full restoration could take place. The School has a strong musical tradition and has produced many exceptional musicians.
These March concerts have continued to raise funds for the maintenance of the organ over a number of years. But sadly due to illness in late 2012, Bryan Shaw has had to retire from his work at the school. We pass on our best wishes for a speedy and full recovery. The end of this series of March concerts in our church after so many years, will be sorely missed by us all. Thanks go to Bryan and staff and pupils of Leicester Grammar School (and not forgetting Loraine and John Winn who made the arrangements for these concerts on our behalf).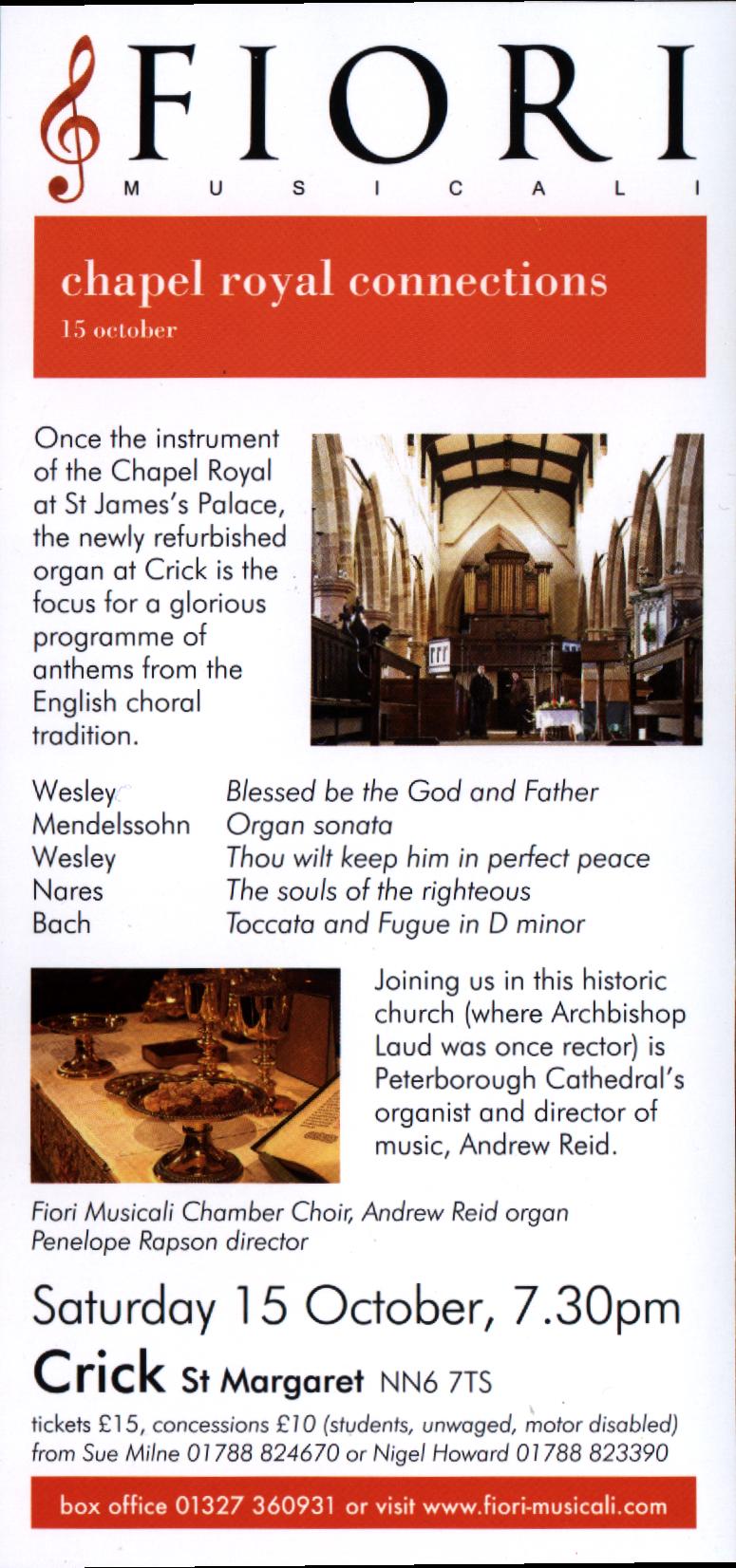 Fiori Musicali Choir with Martin Jackson (organ) Matins Service October 2010
To bring more traditional music into our services, Fiori Musicali Choir joined with members of the church choir to sing in a Matins Service on Sunday 3rd October 2010 in St. Margaret's Church. Martin Jackson, our organist, accompanied the choir.
Fiori Musicali Choir with Andrew Reid (organ) Concert 2011
To celebrate the second anniversary of the completion of the restoration, Fiori Musicali Choir performed a special concert on Saturday 15th October 2011 at 7.30pm in St. Margaret's Church, Crick, Northamptonshire. Andrew Reid, organist from Peterborough Cathedral, accompanied the choir and played one of Mendelssohn's Organ Sonatas and Bach's famous Toccata and Fugue in D minor.
Select Programme to see the concert programme.
Select Leaflet to read the leaflet about the concert.
Select Press Release to read the press release about the concert.
Fiori Musicali Choir with James Parsons (organ) Concert 2012
To celebrate the second anniversary of the completion of the restoration, Fiori Musicali Chamber Choir performed a Faure's Requiem concert on Saturday 20th October 2012 at 7.30pm in St. Margaret's Church.
Penelope Rapson - Director, Judit Felszeghy - Soloist, James Parsons, Director of Oundle for Organists, accompanied the choir.
Lunchtime Organ Recitals in Lent
For the last three years there has been held a series of Organ Recitals on each Wednesday in Lent. Organists are chosen for each recital and sometimes they bring along choir members or an instrumentalist to accompany them. Holy Communion on those Wednesdays is at 11.00am, lunch at 11.30am and the recital from 12-12.30pm. Please feel free to just drop and see and listen.
Here is an example of one of the pieces played during a recent Lent recital by Philip Bricher in 2019.
Philip Bricher Organ Piece
Christmas Carol Services
Each year on the Sunday before Christmas, a Festival of Lessons and Carol Service is read/sung in our church. Many singers from Crick and the surrounding villages come together on this occasion to form a four part choir and sing at this special service, accompanied by our organist on the magificent Elliot organ.
Conductor/Director - Alan Leach, Nigel Howard, Organist(s) - Martin Jackson, Philip Bricher, Andrew Hutley.

If you are a singer and would like to sing at the next Christmas carol service please get in contact with Nigel Howard on 01788 823390 beforehand (preferably during October).